Making your baby food will be fresh, quick and easier than ever before with our food squeezer station! You choose what goes into making healthy snack pouches for your little ones! Hand select your choice of vegetables and fruits for personalised food that gives your little one the nutrients they need!

The pouches can hold up to 4oz/114g of any puree you make and are freezer safe and BPA, PVC, phthalate free.
Our pouches are made of PET and PE materials, they are also re-usable for up to 2-3 times or single use and are easily disposable. The pouches are perfect for making purées, smoothies, applesauce, yogurts, organic baby food and many more. Your little one can enjoy them fresh or store them in the refrigerator or freezer for later. Perfect for babies, toddlers, preschool lunches or elderly food preparation.
Our food squeezer station is perfectly suitable for kids age ranging from 6 months - 6 years of age.
The squeezer station is super easy to operate with just 4 simple steps as pictured below and you will have your kids meals ready in just seconds!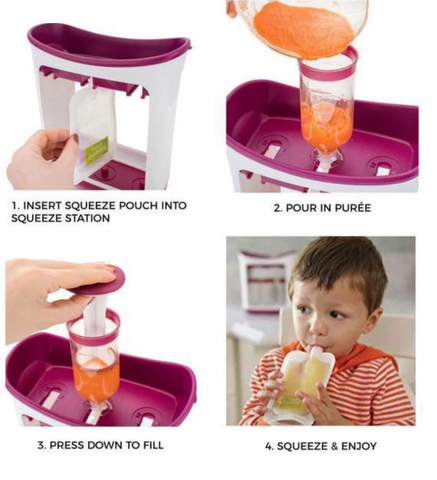 The pouch spoons are reusable, simply screw the spoon on the mouth of the pouch, gently squeeze and food will come through on the spoon making it easier for your baby to feed on.
Your not just buying a food squeezer station, you are buying time and convenience!
Great For Food Prep On The Go
Whether going on holidays, a day out at the beach, picnics or family gatherings, you can bring along your babies pouches ready for them to eat.
Quality Materials/Stable Grip
Made from BPA free, food grade materials that are 100% baby safe. The non-skid base stays secure on your table and the soft press ensures a stable grip.
Easy To Clean
The station is dishwasher safe or you can hand wash, so cleanup is quick and hassle free!
Perfect Gift
Ideal gift for friends and family that will make their baby food prep quicker and much easier that they will thank you for a life time!
What's Included:
1 x Food Squeezer Station
Squeeze Pouches
3 x Tubes
1 x Press
2 x Reusable Pouch Spoons
Dimensions pictured as below: